Secret Ballot
In Iran, a major new voice is emerging.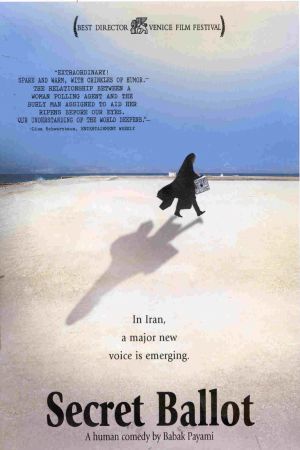 Iranian films often centre on the concept of taking an incredibly simple plot point, and forming a story around it. Secret Ballot is another film in this vein. It follows the frankly bizarre events that take place in a day in the life of a soldier posted on a remote island who realises there's an election on that no-one knows or cares about. A woman arrives on the beach who's in charge of the election, and the soldier must escort her across the desert to help her collect the votes, finding in the process that there's more to the secret ballot than he ever imagined...
The Iranian film industry, while minute, is currently gaining a lot of respect for its output. Secret Ballot continues in this tradition, winning critical acclaim and several awards, including the Pasinetti Award for best film at the Venice Film Festival in 2001, and is an interesting study of the role of women in the middle east, and a sly satire of the chaotic democratic process in Iran.
Rotten Tomatoes Score:
82%
These pages copyright Union Films, 2001-2022. All views expressed in these pages are those of Union Films, and are not necessarily those of the University Of Southampton, or the Students' Union. All logos and trademarks are property of their respective organisations.
| Privacy Policy | Terms and Conditions. Movie images provided by themoviedb.org