The Quiet American
In war, the most powerful weapon is seduction.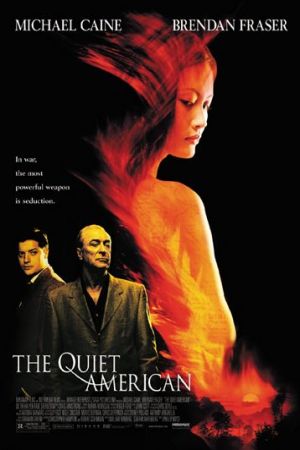 It's 1952, and Vietnam is caught in the grips of the war of liberation from the French colonial powers. In Saigon, the cynical, opium-addicted journalist (a wonderful performance from Michael Caine) Thomas Fowler encounters the young, naieve and idealistic Americal aid worker Alden Pyle (played suprisingly well by Brendan Fraser, in one of his first straight roles). However, Fowler makes the mistake of introducing Pyle to his beautiful young Vietnamese mistress Phuong (Hai Yen), leading to the inevitable love triangle, deceit and ultimately murder.
Adapted from the classic novel by Graham Greene, it successfully manages to set the love story within the historical context of the vietnam of the 1950s. Philip Noyce's direction (which also crops up this season in Rabbit-Proof Fence) also allows the Saigon of the film to shine through while never outclassing the story or the leads, and balances the dual aspects of love story and thriller perfectly. The Quiet American must surely be worth seeing if only to watch Michael Caine, who reaches new levels of masterful acting, and is an interesting exploration of the origins of American's biggest foreign policy cock-up as the West gears up for war with Iraq.
Rotten Tomatoes Score:
87%
These pages copyright Union Films, 2001-2023. All views expressed in these pages are those of Union Films, and are not necessarily those of the University Of Southampton, or the Students' Union. All logos and trademarks are property of their respective organisations.
| Privacy Policy | Terms and Conditions. Movie images provided by themoviedb.org