I Know What You Did Last Summer
He's got a hook on them...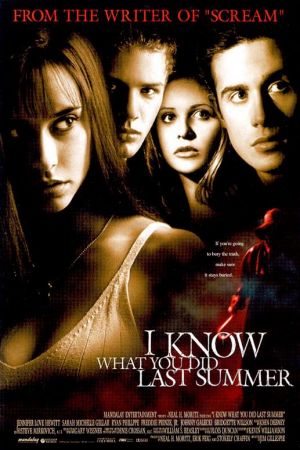 This film is actually quite good. It got slammed by the more popular Scream at the box office but in my book this film is better. The plot is quite simple, a bunch of kids go drinking and "stuff" and on the way home they hit someone with their car. Thinking he is dead they dispose of the body, like we all would do, only last week I was walking home from the Cube and...........anyway back to the review, a year later they start getting notes and slowly some of them get killed off....... this has been done a death since but in all honesty this was the first film to spin such a plot.
Featuring a younger Sarah Michelle Gellar and Jennifer Love Hewitt (made in 1997?) this has bits for the guys and Freddie Prince Jr and Ryan Phillippe do the same for the girls. I will admit the acting is not great (eg. the scene in the theatre) but is far better than some of the trash that gets selected for showing at UF, but it is all round good fun. This film was stuck on first so if you want to miss it you can and come for the Crow. I wouldn't recommend it but it's really up to you, I will definity be there, I really like this film (a long way over Scream), Kevin Williamsons script is witty and sharp and is a great way to get the night off to a good start. You'll be scared of anyone with a fish hook for sometime to come.
Rotten Tomatoes Score:
49%
These pages copyright Union Films, 2001-2022. All views expressed in these pages are those of Union Films, and are not necessarily those of the University Of Southampton, or the Students' Union. All logos and trademarks are property of their respective organisations.
| Privacy Policy | Terms and Conditions. Movie images provided by themoviedb.org